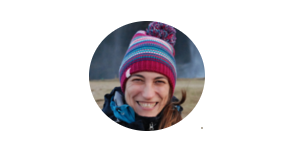 Anna started kayaking on 2003 and she got very soon hooked and fascinated by the sport. Loving the contact with nature and the options of playing, expeditioning and knowing areas from a different perspective.
She loves paddling close home, in the Costa Brava, as well as finding the excuse to travel and discover new places and meet and learn from kayakers from all around the world. You may easily find her anywhere with a bit of coastline, traveling with her van and her kayak on top. Some of her favourites destinations are Britany in France, Wales, Greenland and the Scandinavian countries.
Anna loves coaching and spreading her enthusiasm for sea kayaking. One of her favourite moments is that smile after a first roll or a manoeuvre that had been resisting before. She started teaching in her local club "Pagaia" in Catalunya, and then become a certified coach by Spanish federation and Coach Level 2 by British Canoeing, she also recently became Advanced Sea Kayak Leader (former 5* award). She's had the opportunity to coach in different events in Catalunya, Spain, UK, France, Estonia, Italy, Norway and Denmark, and is delighted to be part again of the Pagaia Symposium, helping the organizing board and sharing the experience with club members and friends.