Parallel to the sea kayak activities, the symposium will offer activities that will let you know the cultural and natural level of the surroundings to the participants and the companions.
Some of the places you could visit are:
The Sant Pere de Rodes monastery
This monastery has been considerate as a typical example of Romanic construction in Catalonia. Its origin dates back to the first century after Christ. According to the legend, a group of Christians from Rome sank in the bay and promised the construction of this monastery as an offer to God. Christian doctrine understands Sant Pere de Rodas as one of its most significant monastery. The first official mention to the monastery dates back to year 878.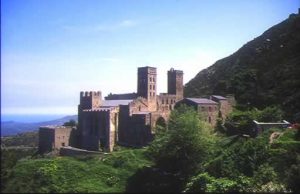 Nowadays, the monastery still dominates the bay of Llançà and Port de la Selva. During a large period its power extended from Barcelona to Roselló, now a part of France. During the XX century expensive restoration works has been done, which haven't satisfied everybody since some people think that it has modernized too much.
Natural Park of Empordas' bogs.
This natural park is divided in two areas that include three zones of Natural Reserve. The two areas are situated at the north and south of the Muga and we can say that they are separated by the urbanization of Empuriabrava.
The first area is located at the north of Muga, more or less at the same spot where the old lake of Castelló d'Empúries was. The north boundary is the marina of Santa Margarida and follows inwards in the direction of the old road from Roses to Pedret. The west boundary is the rural path from Pedret to Castelló. To the south la Mugueta, el Salins and the sea.
The second area is at the south of Muga, the place is protected between the river and the Sirvent going from the sea to 5 Km to the interior. More to the south, the protected place goes from the sea to the beginning of the town of Torroella de Fluvia following the Fluvia River.
The natural Park of El Cap de Creus

.
This is the first maritime-terrestrial natural park of Catalonia, situated at the north of Costa Brava. The eroded area, the cliffs, the islets, the capes and the creeks offer a unique natural beauty.
The total area of the park is 13.886 hectares, from this 10.813 belongs to the terrestrial part and 3.073 to the maritime part. In the terrestrial part are established three natural spots of national interest: To the north Cap Gros- Cap de Creus, to the south Punta Falconera-Cap Norfeu and to the west the Rodes mountains.