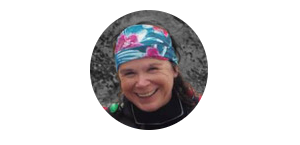 BCU 5* sea. A3, UKCC Moderate water sea coach.
SKUK and Lendal sponsored paddler
Kayaks I paddle – Elite Pilgrim and carbon Kevlar Pilgrim Expedition.
September 2010 – Solo Anglesey circumnavigation, 12.24 hours –new female record! (Pilgrim Expedition)
September 2010 – Solo circumnavigation Isle of Man, 15.15 hours (Pilgrim Expedition)
May-June 2010 – Circumnavigation of Ireland, 37 days (Pilgrim Expedition)
July 2009- Solo Circumnavigation of Outer Hebrides, 12 days (Greenlander Pro)
September 2008 – Solo Anglesey circumnavigation 14.40 hours (Explorer LV)
I started sea kayaking in 2008 and completed my first solo circumnavigation of Anglesey the same year in 14.40 hours. After this trip Nigel suggested I circumnavigate Ireland. Working full time this was not a possibility so instead in 2009 I completed a solo circumnavigation of the Outer Hebrides in a SKUK Greenlander Pro.
The desire to circumnavigate Ireland was sufficient that I resigned from my good corporate audit job at the end of April 2010 to start the expedition after the Anglesey Sea Symposium in May 2010.
I set of with Sonja Ewen hoping to complete the trip in 6 weeks. Unfortunately after 22 days and nearly at the half way mark Sonja was sick and could not continue. I completed the expedition solo 15 days later after many adventures and a close encounter with 2 Orca. The trip was not a record attempt but I have been given the female record.
I currently work as a Freelance coach with Sea Kayaking UK. I'm also helping with the newly acquired Lendal business.
I have coached in various countries and at various symposiums including Ireland, USA, Spain and Israel.